Cauliflower rice is a low-carb alternative to real rice and packed with a number of antioxidants and vitamins. No wonder it's all the rage. Riced cauliflower is incredibly easy to make and can be used in many different dishes that call for rice. Here is our simple recipe for cauliflower rice and our 5 favorite ways to serve it up:
Simple Riced Cauliflower
Ingredients:
Head of cauliflower (or more if you'd like to freeze some!)
Directions:
Cut cauliflower into quarter pieces and remove inner core.
Break apart the cauliflower into large florets.
Transfer to a food processor with blade attachment and fill with about half of your cauliflower.
Pulse until cauliflower is about rice size.
Remove and start second batch.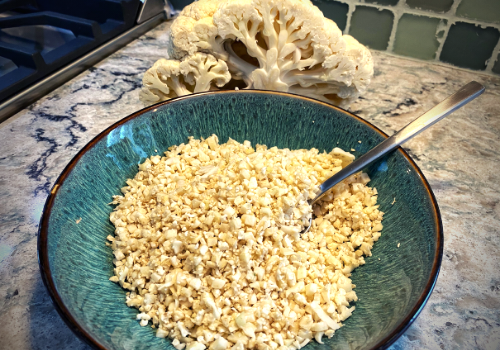 Notes:
You might have a stubborn piece of cauliflower in each batch that won't pulse. Pull those out and put back in later to avoid pulsing the rest of the rice too long (and making it too fine).
Riced cauliflower can be frozen for up to three months.
Our five favorite ways to use riced cauliflower:
Make sushi with cauliflower rice instead of sticky rice. Just steam for a few minutes in the microwave and let cool.
Add cauliflower rice to your favorite soups.
Steam your cauliflower rice with a little olive oil, chicken stock, and cilantro and use in place rice in your burrito bowls.
Swap couscous for cauliflower rice. Saute for a few minutes with a bit of olive oil, chopped garlic, and basil. Finish with grated Parmesan.
Substitute the rice in your favorite stuffed pepper recipe for cauliflower rice. Just stuff and bake!
The list goes on... fried "rice," cabbage rolls stuffed with "rice," or heck... just eat as "rice" and top with a dab of butter and soy sauce!
Looking for other recipes using cauliflower? Try these:
🍴🍴🍴
This story originally appeared in Macaroni Kid EATS! Want to be part of our foodie family?