Baking and decorating cookies is a much loved tradition for my family. Sometimes we like to change it up a bit and make other kinds of sweet treats. These chocolate caramel pretzel bites are so easy to make and perfect to serve at any gathering or give as a sweet gift to someone special.
Chocolate caramel pretzel bites
Ingredients:
Mini pretzel twists
Caramel baking bits
Melting chocolate
Coconut oil (optional)
Sprinkles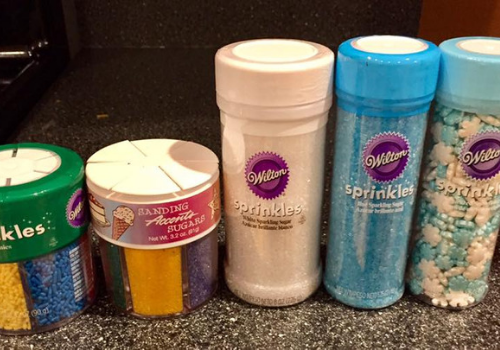 Instructions:
Line a baking sheet with a silicone mat or waxed paper.
Arrange the mini pretzel twists in a single layer on the tray.
Place one caramel baking bit in each of the sections of the pretzel twist (you'll use 3 per pretzel).
Bake at 350 degrees for about 5 minutes. Be sure to keep an eye on your treats, as they should be removed from the oven as soon as the caramel is melted!
While the pretzels are in the oven, melt the chocolate by following the package directions.
Add a teaspoon of coconut oil to the melted chocolate and stir until well combined. This is optional. The oil will make your chocolate look shiny when hardened.
Remove the pretzels from the oven and drizzle the melted chocolate over them with a spoon.
Decorate with sprinkles.
Let the pretzels cool completely before stacking or storing.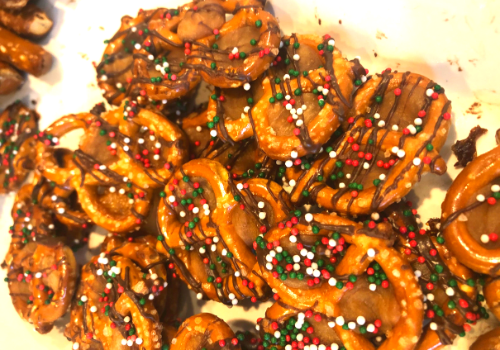 Tips:
Milk chocolate, dark chocolate, and white chocolate are all delicious options!
If you'd like more festive looking treats, you can use both white and milk chocolate, or you can get colored melting chocolate.
If you want to dye your white chocolate, use a powdered food coloring. Liquid food coloring can cause the chocolate to seize.
Square caramel candies can be substituted for the baking bits. Candies must be unwrapped, cut in half, and placed in the middle of the pretzel twist. I prefer the baking bits as it's a lot less work than unwrapping and cutting candy.
I hope your family enjoys these easy chocolate caramel pretzel bites as much as my family does!
Sarah Boucher is the publisher of Macaroni Kid Grand Haven, Spring Lake, & Muskegon, Mich.